I recently had reason to reflect on a selection of 80's music whilst trapped in a never-ending taxi ride. The music of my youth was playing and it occurred to me that one of the important features of 80's music has all but disappeared from today's music scene.
I'll give you some examples...
The crush-worthy Steve Norman from Spandau Ballet:
Australia's very own "I'm lucky I ended up in this band or I would never have scored Deni Hines" Kirk Pengilly:
James Valentine from the Models, now a serious ABC journalist/presenter type:
The dude from Dire Straits:
The dude who played with Hall & Oates (who, readers, was actually the epitome of 1985 cool with a sax, a mullet and a shiny jacket natch)
This list is not complete of course. We should mention the other great forgotten saxophonists including from Australian Crawl, Wang Chung, Men Without Hats, Psychedelic Furs, Was (Not Was) (
personal faves of Ms Batville
) and the boys who played along with Alison Moyet and Sade.
These days there is nary a saxophone player in sight. I don't much mind this but I do worry for all those Gen X saxophonists who took up the instrument inspired by young Billy Hicks (played by the very chiseled cheekbones of a pre Sam Seaborn Rob Lowe) in the all time classic 80's film
St Elmo's Fire
. I related to the Mare Winnngham character (whose name was, would you believe, Wendy Beamish!!) when she fell head over heels for Billy. I'm sure many impressionable young boys and girls thought similarly and begged their parents for an instrument so they could look this cool: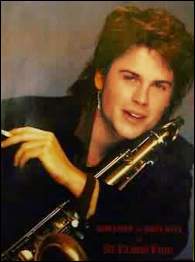 Where are they now? Is their beloved sax sitting in a dusty cupboard somewhere with their dreams of stardom shattered, or are they out at the Burvale on a Friday night blasting away tunelessly while they recreate retro classics to a roomful of drunk and nostalgic punters?
I wonder....